International Masters Gala Concert Review
Following Fodens Victory at the 'International Masters Contest' the band were featured in the Gala Concert at the Corn Exchange, Cambridge.
Review of the concert courtesy of 4barsrest.com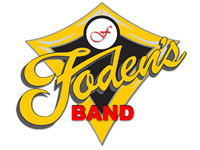 The 2009 Masters weekend was rounded off with a splendid concert on the Sunday night.
Exuberant

Stamina, and perhaps interest, had waned a little from earlier in the long day, but that was soon remedied for a healthy and vociferous audience as they lapped up the newly crowned champions on exuberant form.
Both Garry Cutt and Bram Tovey certainly enjoyed themselves too – allowing Fodens to showcase their talents to the full.
Ripper

Fodens ripped through 'Carnival Overture' to start, with Alan Wycherley floating above the rapids below like Blondini on the high wire, and which set the tone (and the standard) for the rest of their first half contribution.
Joanna Pinnock may have made the fateful mistake of introducing 'Portuguese Party' as being written by Gilbert Vintner (wine merchant to the brass band fraternity in his spare time then), but there was nothing tipsy about a performance full of brio and wit from the band.
Rolls Royce

Fodens then moved into Rolls Royce mode, and with a sublime lead from Mark Wilkinson on 'Elegy' from 'Entertainments', and a run through the 'Green Hornet' by the front row lads that sounded like a wasp on speed, it was left to Les Neish to stamp his class on proceedings with a electrifying rendition of the second movement of 'Salt of the Earth'.
Lips may have been tired by now, but it was left to Bram Tovey to add the coup de grace with a beautifully shaped reading of 'Kingdom Triumphant' that ebbed and flowed with a sense of intuitive emotion.
Fodens left the stage with deserved applause ringing in their ears after a display that had the mark of champions written upon it.
Iwan Fox 4basrest.com